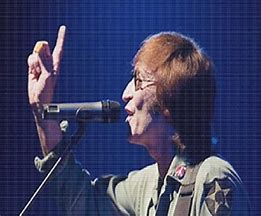 John Lennon tribute act Gary Gibson's uncanny resemblance to the late John Lennon has created a furore wherever he has turned up, even amongst the ranks of those who knew and loved Lennon well.
"People had told me for years that I looked and sounded like John but I didn't tend to push it that much at first," explained Gary who lives in the quiet suburb of Lostock Hall outside Preston.
We feature the type of songs that I think Lennon might well have chosen on the world tour he was planning at the time of his shocking death," said Gary.
It includes Lennon's solo material from the Plastic Ono Band through to the Double Fantasy album and incorporates many Beatles classics and a raft of the rip-roaring rock 'n' roll numbers that Lennon loved so well.
A few years after the former Beatle was murdered, Gary was performing with his band The Cavern in New York and took a stroll close to New York's Dakota Building to take a peek at the famous home of Lennon.
Suddenly he saw Yoko Ono wander out on her own. He casually walked across to wish her the best.
A startled Yoko Ono stared in shock at the "apparition" before her. Then, waving her hands in the air and moaning "No, No, No" she ran away in panic.
"I suppose it must have been a surprise as I had my hair in that brushed back Teddy-boy style that John had gone back to wearing.
"She certainly didn't hang around to return my greeting," said Gary with a grin.
At a racing fraternity party Sir Elton John asked Gary if he could get up and sing with the band. "What shall we sing?" Gary asked. "Lets do that one I did with John (Lennon) at Madison Square Gardens 'I Saw Her Standing There' replied Elton. Afterwards, back stage, Elton commented "I can't believe it, you look so much like John. You've got to be related"!